Annual Meeting Highlights
A Recap of the 2021 Annual Meeting in Watford City
The 2021 North Dakota Petroleum Council Annual Meeting was held September 21-23 in Watford City. The meeting featured 375 registrants who listened to 25 speakers and panelists discussing the state of the industry and it's impact in North Dakota.
The 3-day event kicked off with the September Board of Directors Meeting on Tuesday. Following the meeting the board joined other attendees for a Welcome Social at Stonehome Brewing and First International Bank, and a Bet on the Bakken Downtown Bar Crawl and Poker Run hosted by Watford City Tourism.
Wednesday's agenda was highlighted by a business session to elect NDPC board members and new board officers, the NDPC Chairman's Luncheon, and presentations from speakers including:
Former Secretary of the Interior Ryan Zinke
MHA Chairman Mark Fox
Danny Brown – CEO, Oasis Petroleum
Jason Roe, CEO EcoVapor Recovery Systems
Brian Cebull – President and CEO, GTUIT
Bradley Aman, Vice President of Production and Completions, Continental Resources
The Chairman's Luncheon included remarks from North Dakota Governor Doug Burgum and the presentation of the 2021 NDPC Industry and Leadership Awards including: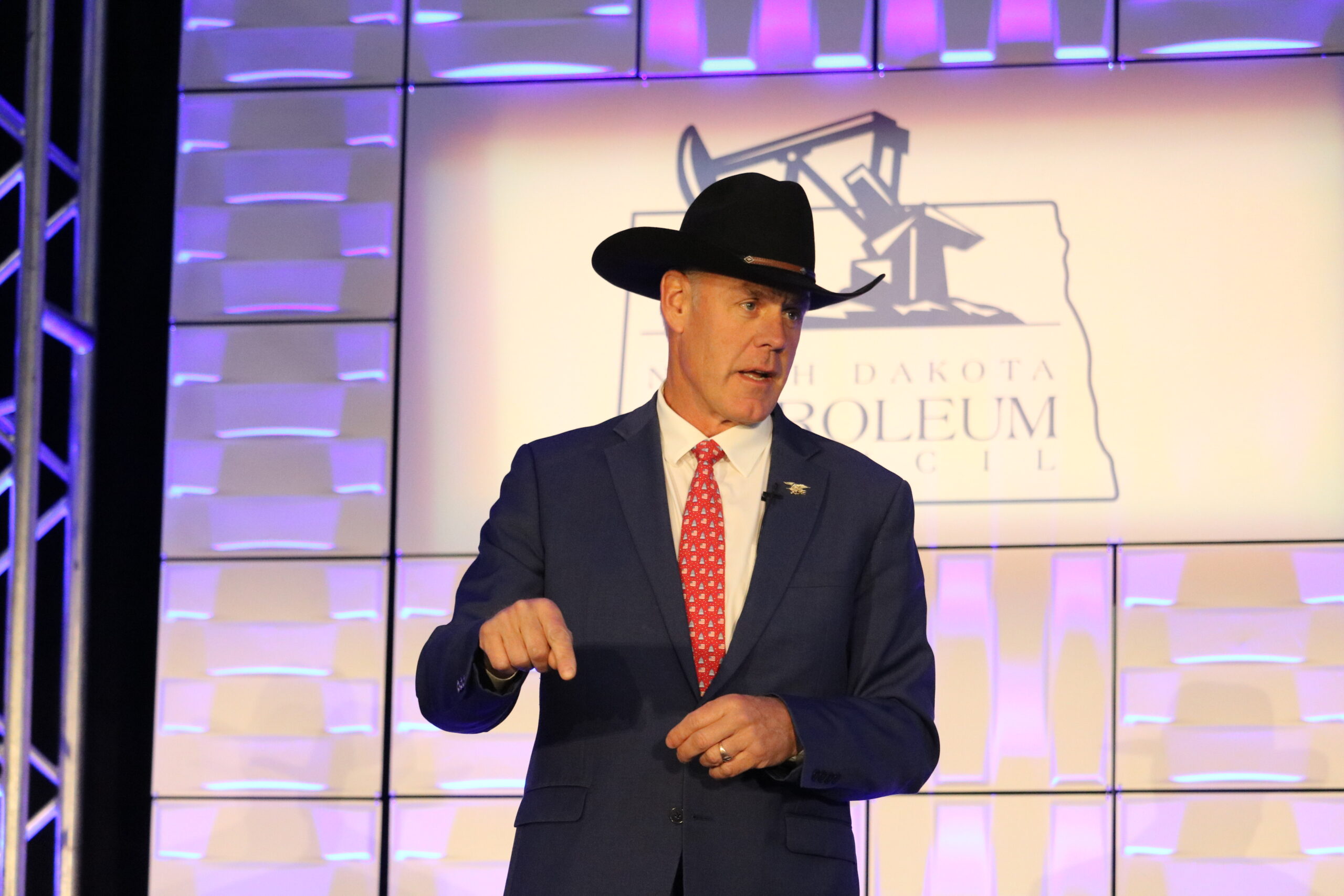 Keynote Speaker Secretary Ryan Zinke speaks at the Annual Meeting 
NDPC Excellence in Safety Award – ONEOK Rockies Midstream

NDPC Community Engagement Award – Continental Resources
NDPC Environmental Stewardship Award – Crusoe Energy Systems Inc.
NDPC Distinguished Industry Leader Award – Brian Grote & Brian Rosendahl – Balon Valves
NDPC Hall of Fame – Larry Dokken
The day concluded with a Casino Night social and dinner at Teddy's Residential Suites, providing attendees the opportunity to network and connect with industry leaders.
Thursday's agenda began with the transfer of NDPC chairmanship from outgoing NDPC Chairman Kathy Neset to incoming Chairman Lawrence Bender. The morning also included the presentation of the NDPC Public Servant Award to ND State Representative Craig Headland.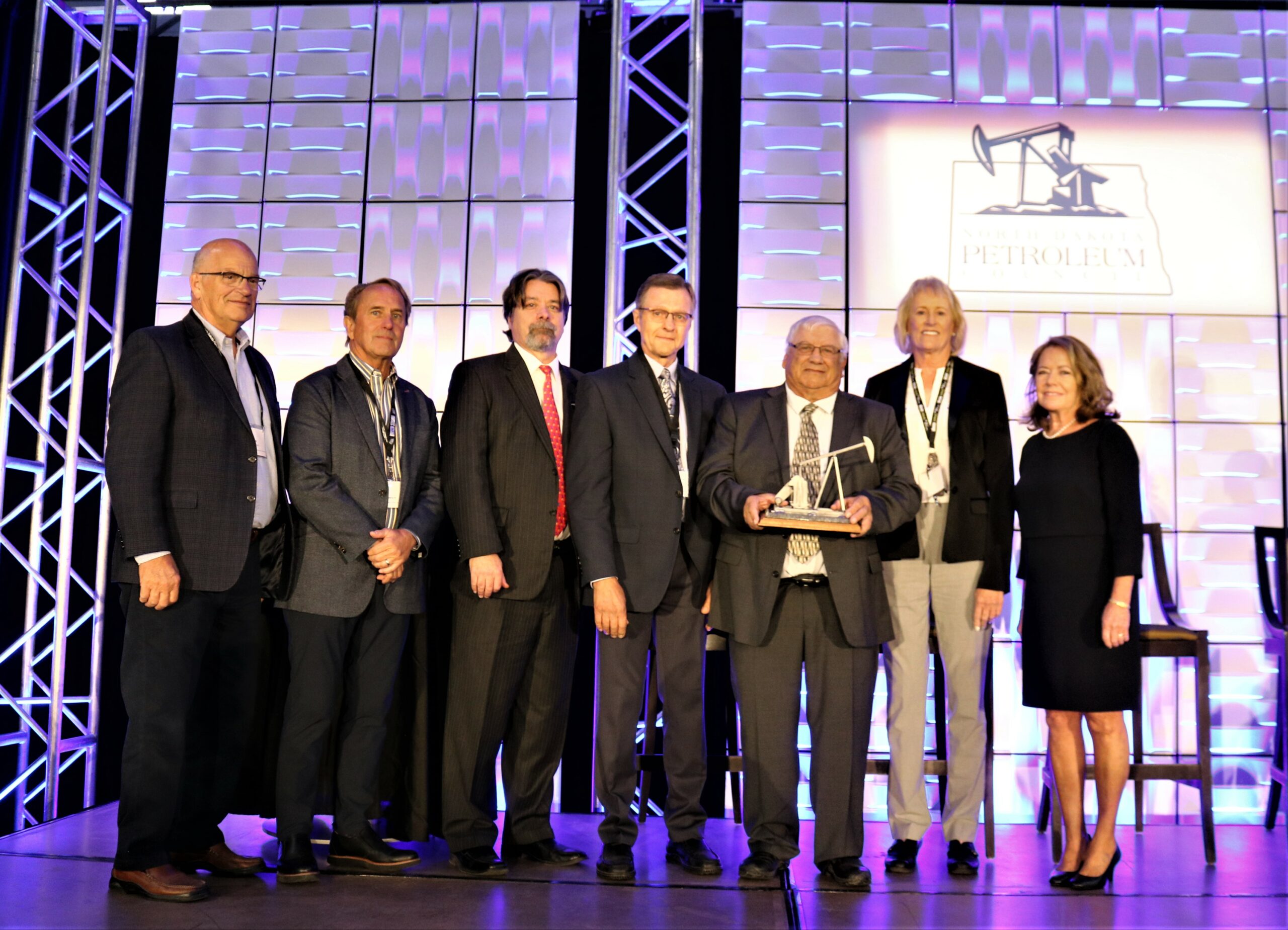 Larry Dokken is inducted into the NDPC Hall of Fame, joined by past inductees
Following the award, the agenda continued with presentations and panel discussions from:
North Dakota Lt. Governor Brent Sanford
John Harju – VP for Strategic Partnerships, EERC
Todd Steinwand – President and CEO, Bank of North Dakota
Dewey Gerdom – VP Business Development, Grayson Mill Energy
Joel Brown, VP Mineral Service, First International Bank & Trust
Lynn Helms, Director North Dakota Department of Mineral Resources
The Annual Meeting concluded with closing remarks from NDPC President Ron Ness who expressed his gratitude for the generosity and hospitality of the people of Watford City, announcing the Annual Meeting will be back in Watford City September 20-22, 2022.
The NDPC is grateful to all of the sponsors, staff members, volunteers and vendors who made the 2021 Annual Meeting a great success. We can't wait to come back in 2022!