Annual Meeting Highlights
A Recap of the 2022 Annual Meeting in Watford City
The 2022 North Dakota Petroleum Council Annual Meeting was held September 20-22 in Watford City. The meeting featured 475 registrants who listened to 25 speakers and panelists discussing the state of the industry and it's impact in North Dakota.
The 3-day event kicked off with the September Board of Directors Meeting on Tuesday. Following the meeting the board joined other attendees for a Welcome Social at Outlaws Bar & Grill.
Wednesday's agenda was highlighted by a business session to elect NDPC board members and new board officers, the NDPC Chairman's Luncheon, and presentations from speakers including:
North Dakota Governor Doug Burgum
Dan Muus – Chief Development Officer, Theodore Roosevelt Library Foundation
Anne Bradbury – CEO, American Exploration & Production Council
Wendy King – VP, Gulf Coast & Rockies ConocoPhillips
The Chairman's Luncheon included remarks from The Honorable John Hoeven and the presentation of the 2022 NDPC Industry and Leadership Awards including: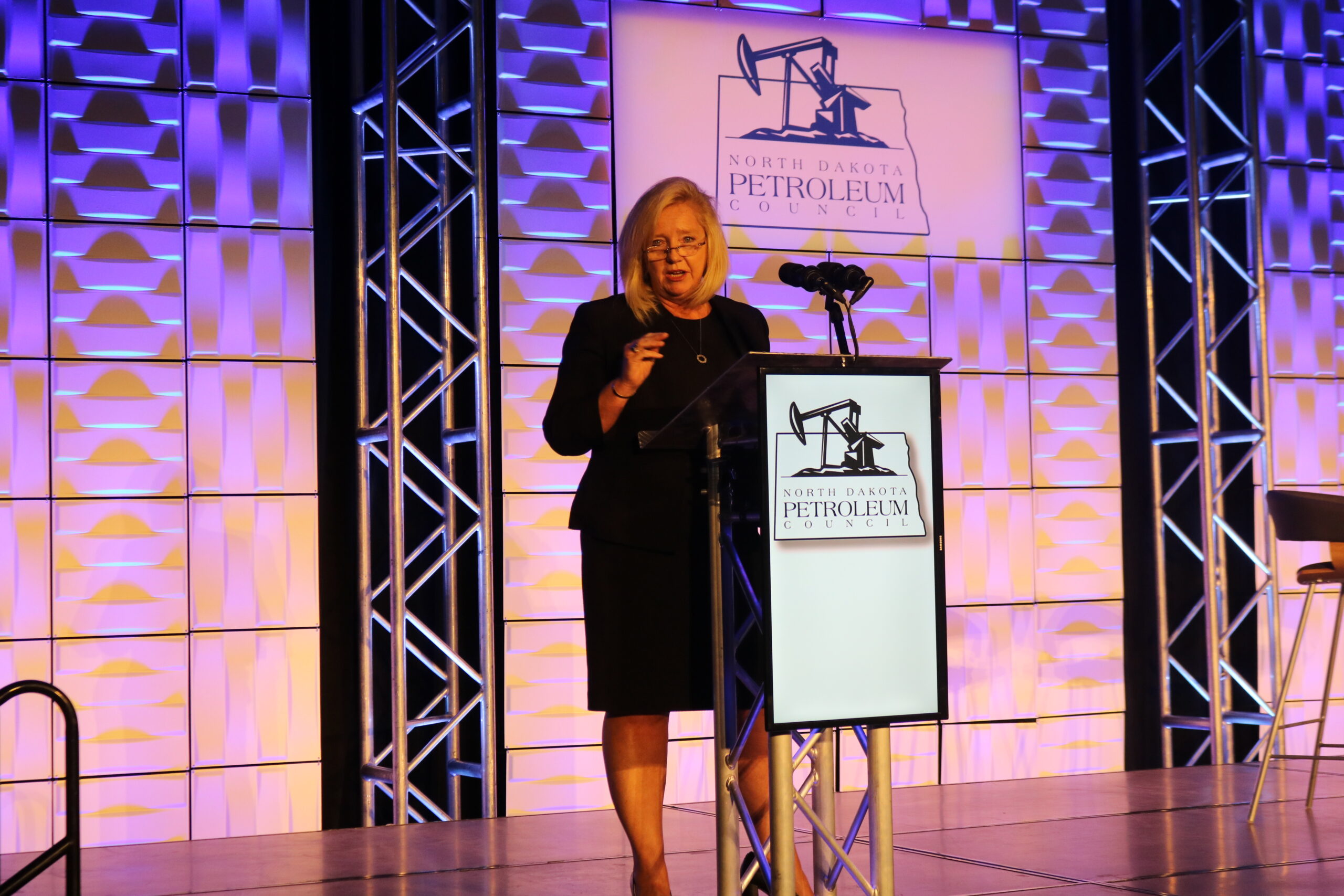 Keynote Speaker Wendy King speaks at the Annual Meeting 
NDPC Excellence in Safety Award – Denbury Resources

NDPC Community Engagement Award – Marathon Petroleum Corporation
NDPC Environmental Stewardship Award – Enerplus
NDPC Distinguished Industry Leader Award – Mark Gjovig & Arlan Arnson, GO Wireline
NPDC Public Service Award – Ryan Rauschenberger
NDPC Hall of Fame – John Kerekes
The day concluded with a social and dinner at Teddy's Residential Suites, providing attendees the opportunity to network and connect with industry leaders.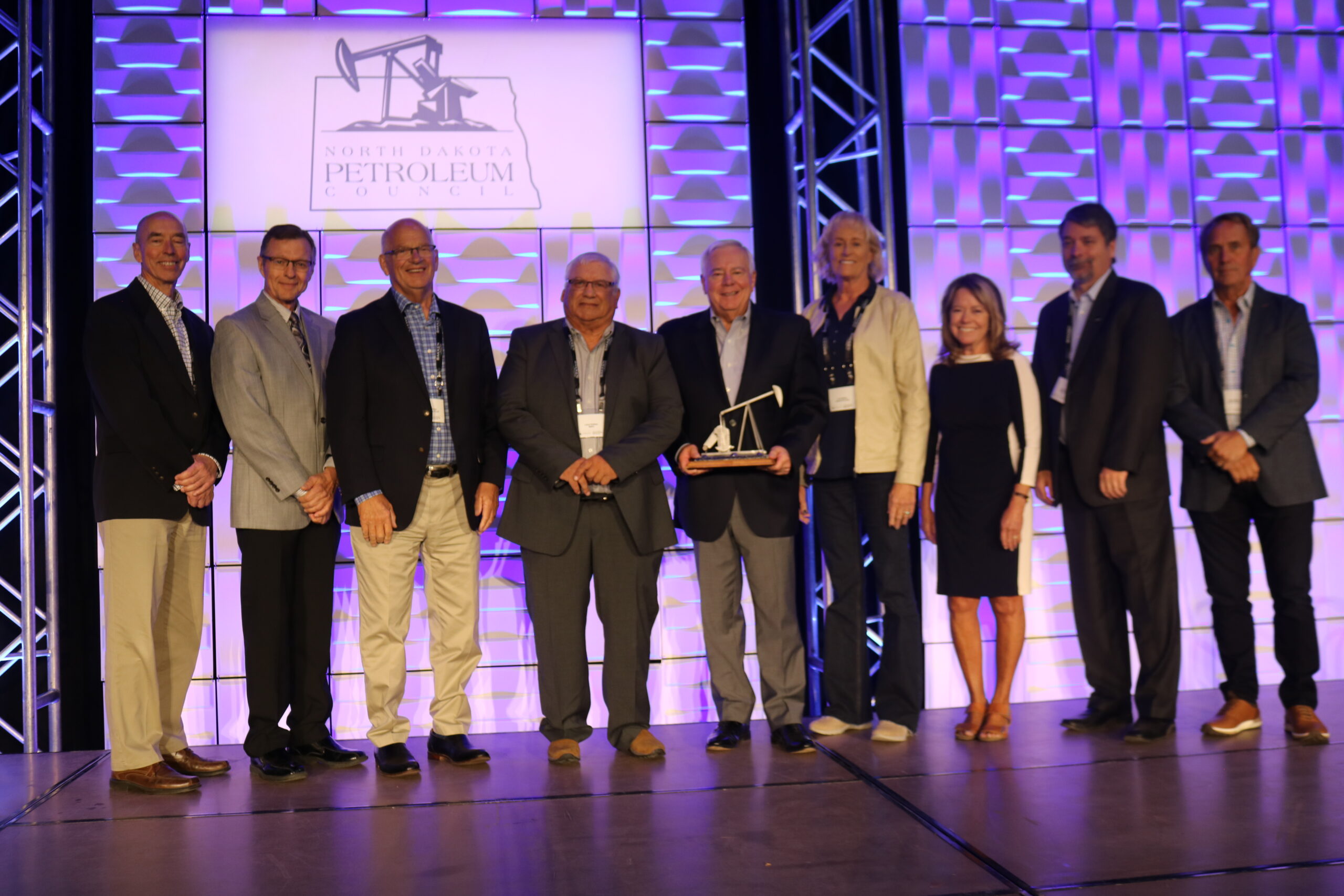 John Kerekes is inducted into the NDPC Hall of Fame, joined by past inductees!
Thursday's began with a video message from The Honorable Kelly Armstrong and the agenda then continued with presentations from:
Julie Fedorchak – ND Public Service Commissioner
Bonnie Ellwood – Senior Environmental Engineer, Enerplus
Lynn Helms – Director, ND Department of Mineral Resources
Justin Kringstad – Executive Director, ND Pipeline Authority
Dr. Mark Pearson – President & CEO, Liberty Resources
Joseph Heringer – Trust Lands Commissioner
Drew Wrigley – ND Attorney General
James Taylor – President, Heartland Institute
The Annual Meeting concluded with closing remarks from NDPC President Ron Ness who expressed his gratitude for the generosity and hospitality of the people of Watford City, announcing the Annual Meeting will be back in Watford City September 19-21, 2023.
The NDPC is grateful to all of the sponsors, staff members, volunteers and vendors who made the 2022 Annual Meeting a great success. We can't wait to come back in 2023!