DISTINGUISHED INDUSTRY LEADER
Recognizing industry employees who go above and beyond to leave a positive impact and represent the industry.
The Distinguished Leadership Award is presented to an industry veteran who has gone above and beyond their respective roles and duties to help the North Dakota petroleum industry educate the public and support the NDPC's community outreach efforts through NDPC programs and other association and industry activities. The recipient of this award is selected by a committee based on excellence in public service.
NDPC
DISTINGUISHED INDUSTRY LEADERS
2021
BRIAN GROTE & BRIAN ROSENDAHL
Brian Grote and Brian Rosendahl of Balon Valves were recognized for their many years of volunteering for the NDPC and ND Petroleum Foundation, whether it's cooking at—and often winning—the Bakken Rocks CookFest or catering lunch or dinner at industry events.
We cannot thank Brian and Brian enough for their support and willingness to volunteer and help over the past decade.  They are great cooks, but they are even better people and distinguished leaders who grew up in our state and love to support the oil industry and be part of the effort to improve community relationships and make our state a great place to live and work.
BRIAN GROTE
Brian Grote is a native of Crosby, North Dakota. After graduating from Divide County High School, he went to work in the oil industry for drilling contractors including Bomac, Bird Drilling, and Kenting.
He received an Associate of Applied Science degree from ND State College of Science and went to work for National Oilwell in 1990. Brian joined Balon Valves in 2003 where he currently works as the Regional Manager.
Brian and his wife Rita live in Crosby and have three daughters - Sierra, Allyson, and Olivia. Brian volunteers and cooks for the City of Alamo's Fire Department's city celebration as well as for the Tioga annual volunteer firemen's golf tournament. Each year Brian chooses two fundraisers to cook for such as cancer research to help raise money for folks with medical expenses, or golf courses in small western North Dakota towns to help raise funds for their course. Brian also cooks for community Pick up the Patch events and he helps transport quilts made by Lutheran Church ladies for Lutheran World relief for the past 18 years.
BRIAN ROSENDAHL
Brian Rosendahl is a native of Westhope, ND graduating from Westhope High School in 1979. After graduation, he started his career in the North Dakota oil fields working for Cardinal Drilling, following in the footsteps of his father and two uncles. After a slow-down in the early 80's he started with Bridgeman Creameries in Minot where he worked for the next twenty years. While in Minot, Brian was active in the Minot Jaycees and volunteered each year at the Norsk Hostfest helping with security.
In 2008, Brian was drawn back to the oil industry as a salesman for National Oilwell Varco, and then in 2013, began his career with Balon Valves where he is currently a sales representative for the MonDak region. With the generous support of Balon, Brian enjoys grilling for the various oilfield golf tournaments in western North Dakota and eastern Montana.
Brian is a member of the Dickinson and Minot API chapters and is currently serving as a board member for the Minot chapter. On his time off, Brian enjoys time at the lake with family, as well as traveling and hunting.
Distinguished Industry Leaders
Ron Ness (left) and Tessa Sandstrom (right) present the Distinguished Industry Leader Award to Brian Rosendahl and Brian Grote.
CookFest Champs
Balon Valves, under Brian Grote and Brian Rosendahl's leadership, are mainstays and regular winners at the Bakken Rocks CookFest.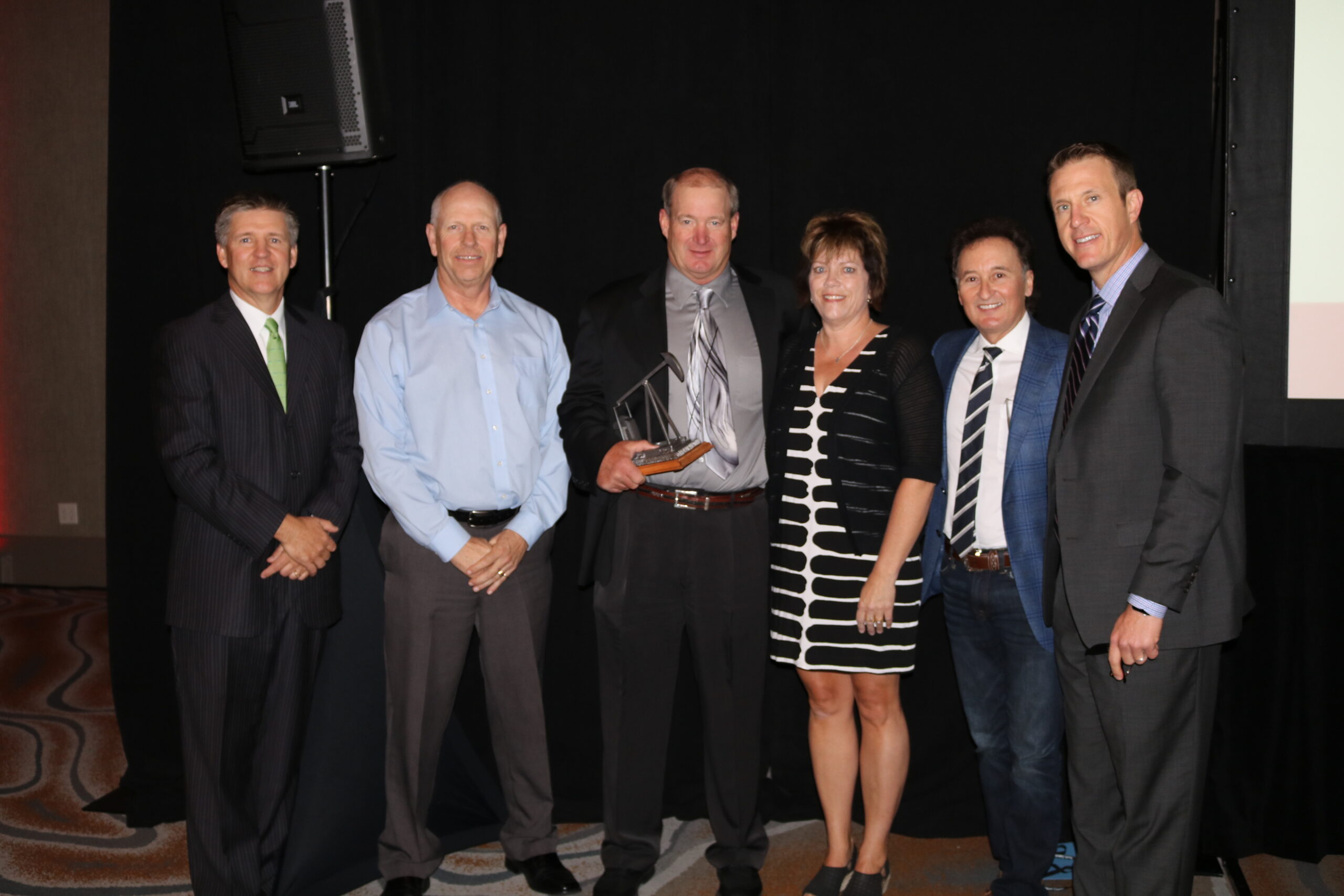 Scott has been my go-to guy helping provide rig tours for the past 17 years.  These tours have played a vital role in educating the public, policy-makers, teachers, students, and investors.  Scott has always been willing to step-forward and help organize a tour or help with an outreach event.
Scott is a great example of a distinguished leader. He works hard, is committed to getting the job done right, he makes those around him better, and he's more than happy to let others get the credit and publicity.
Scott Reid was awarded the Distinguished Industry Leader Award at the NDPC Annual Meeting in 2018 for his continued help and wisdom on local issues, working with local community officials, giving tours, or supporting industry and the Petroleum Council and Foundation through sponsorships and support.
Scott is the Area Manager for Nabors Drilling in Williston, overseeing operations in North Dakota and Montana.  He is a native of Kenmare, North Dakota and graduated from Kenmare High School and started working for Grace Drilling that year.
Scott has worked in the drilling industry for 35 years, first with Grace Drilling and then with Nabors Drilling since 2003 when they acquired Grace.
Scott was promoted to Drilling Superintendent in North Dakota in 2001 in ND and then spent one year working in Colorado. He was promoted to Area Manager of North Dakota in 2004.
Scott has led Nabors in North Dakota throughout the growth of the Bakken.  At one-point, Nabors had 57 rigs operating with 1,500 employees in the Williston Basin under Scott's leadership.  Today, Nabors has 23 rigs and 600 employees in the Basin but they are drilling wells at twice the pace of just a few years ago.
Scott served on the NDPC Board of Directors from 2004 to 2010.  He is a member of the Williston API and has participated in the Bakken Cook Fests since they started, often partnering with Cajun friends to take home several 1st Place Awards.
Scott also helped serve the Minot community after the floods in 2011, cooking many meals and even donating a block of rooms to flood victims for a week.
Scott and his wife Wendy have two children and two grandchildren and currently live in Mandan, North Dakota.
Brent Eslinger was recognized for his many years of service to the Petroleum Council, Petroleum Foundation, and the industry. Throughout his career, he worked closely with the NDPC and engaged in industry issues whether it was providing technical support on new rules and regulations, working with local community officials, giving tours, or supporting industry and the Petroleum Council through sponsorships and support.
Throughout his career, Brent led Halliburton through the downturns with extreme poise. He worked tirelessly to ensure the Williston Basin had the right blend of technology and the best and skilled workers to ensure that the Bakken Shale play was at the forefront to compete on a national and international scale. Through all his efforts, he made sure that Williston can be proud to be a part of the oil and gas industry.
As if his full-time job weren't enough, Brent was also invested in the community and active in many organizations, including the Williston API Chapter. Through Brent's leadership and hard work, the Williston API raised tens of thousands of dollars that benefited the Williston community. Brent was also a big supporter of Montana Tech's engineering program and served on advisory committees for both the Bismarck State College engineering program and the TrainND Program at Williston State College where his leadership and support were instrumental.
Brent is originally from Dickinson, ND, and spent nearly 40 years in the oil industry. Many thanks to Brent for spending many of those years advancing the industry and Petroleum Council!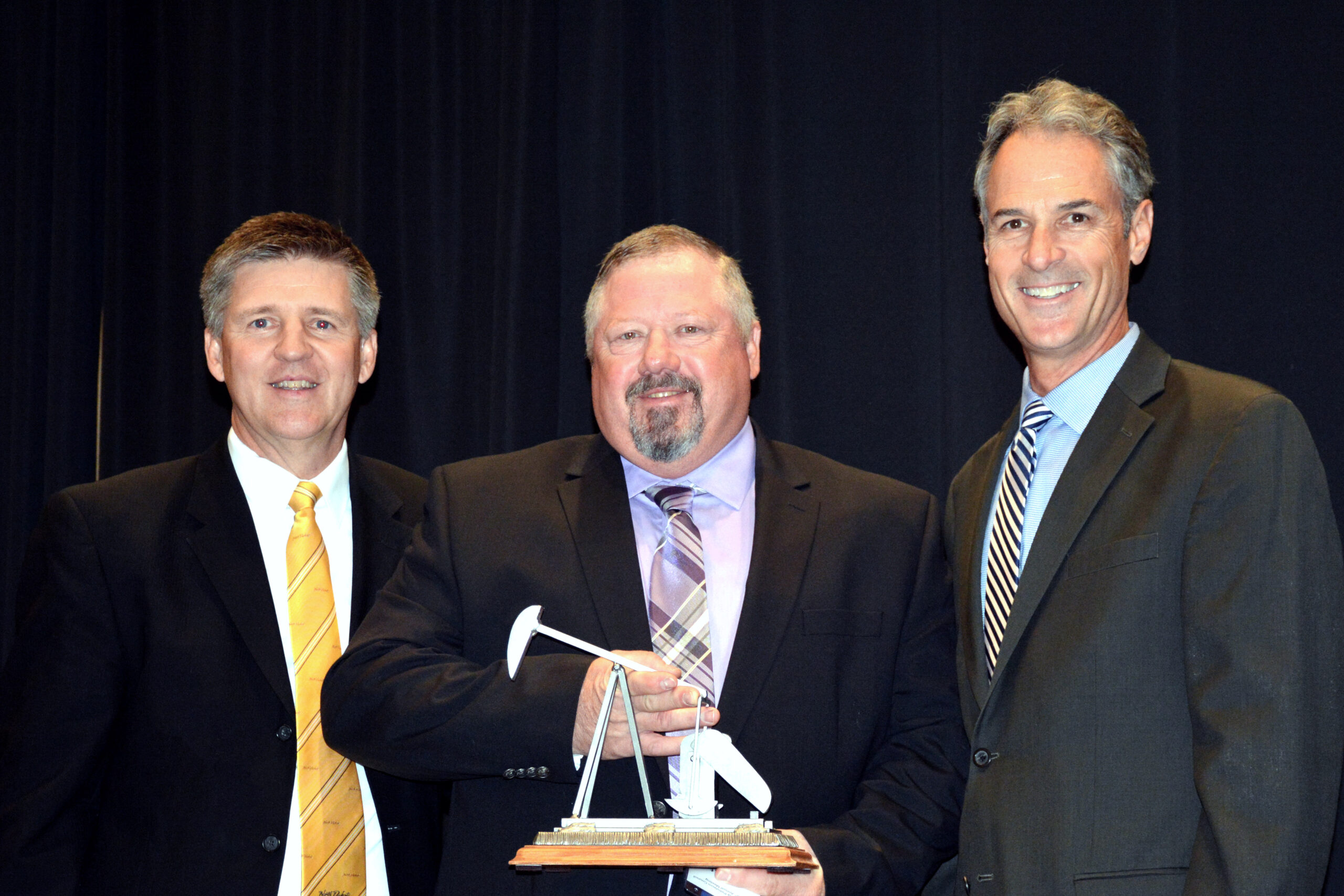 We could always count on Brent to be supportive and engaged, even when it meant helping cooking hundreds of pounds of brisket, ribs, chicken, beans, and more for thousands of people, including the Bakken Rocks CookFest, the One Million Barrel Party in Tioga in 2014, the Annual Meeting Community Party in Grand Forks in 2013, and the Williston Basin Petroleum Conference.
Steve Halvorson grew up in White Earth, North Dakota.  He began rough necking at age 16, after a few years he managed Powder River Casing until he moved to Gillette Wyoming and became sales manager for Wyoming Casing for many years until he purchased the business in 1976.  In 1978, he opened the store in Dickinson, North Dakota. At the peak of the Bakken, Steve employed nearly 900 employees.
Steve has been the keystone of the Dickinson API Chapter for many years. His tireless effort, generous heart and drive to make sure everyone has a good time has not only made the API tournament the best oilfield golf event in the Rockies, but it has become a tremendous financial success which allows the Dickinson API Chapter to contribute tens of thousands of dollars to local charities, scholarships and other good causes in the Dickinson area.  
Steve has been extremely modest about his success and even more so about his generosity. In addition to the thousands of hours and tens of thousands of dollars he contributed to the Dickinson API, a few of the donations he's done in the past few years include:
$500,000 to the Dickinson Hospital
$250,000 to the Dickinson Trinity School
$100,000 to St. Benedict's Nursing Home
$50,000 to the Dickinson Lutheran Elementary School
Contributes to the back-to-school backpack program each year.
Each year during Thanksgiving and Christmas he gives his employees hams and turkeys and buys many extra for the Dickinson Food Bank.
Steve Halvorson is what we should all strive to be – a successful, caring and generous man.  Thank you, Steve, for your many years of service to the industry and the community!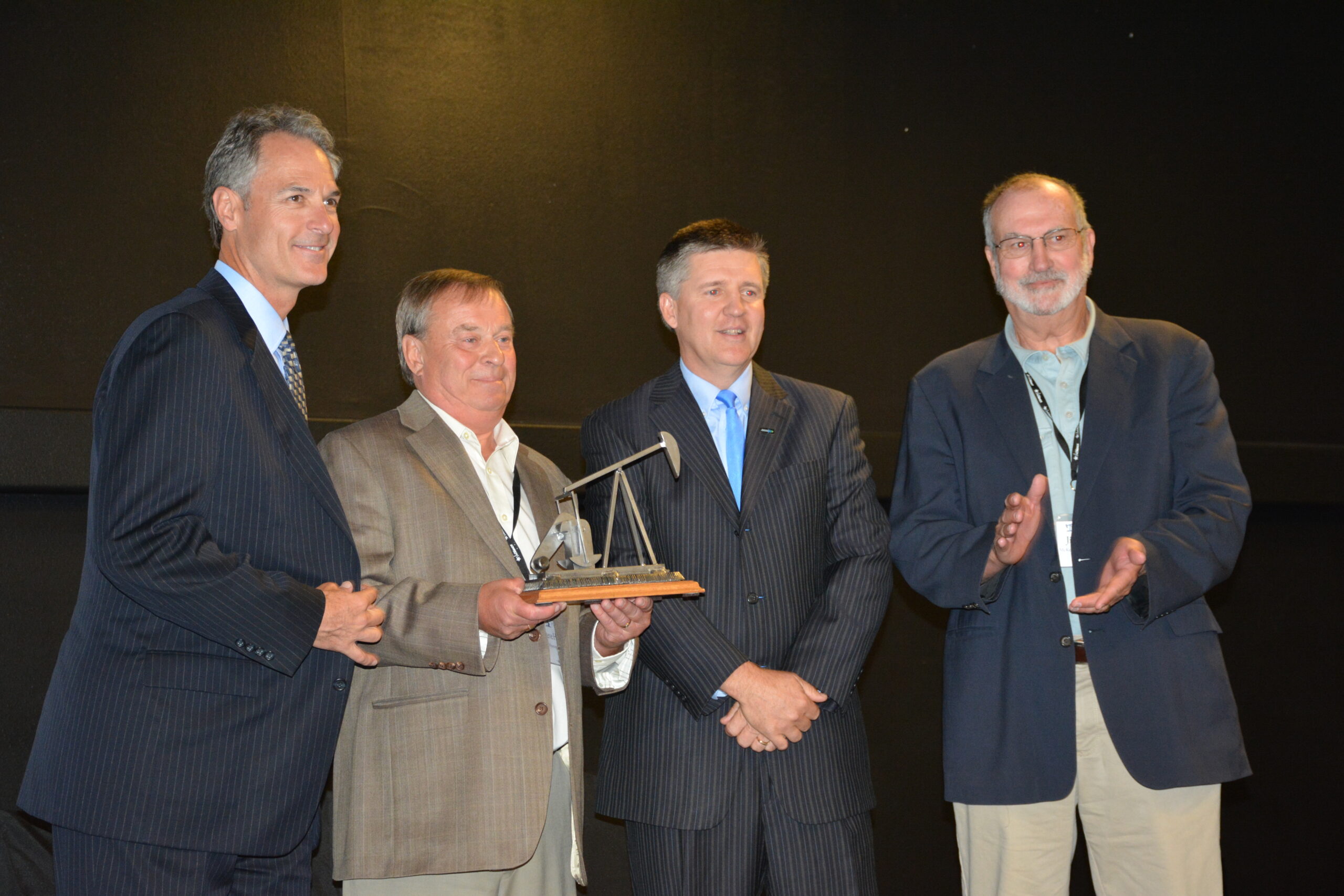 Steve Halvorson is certainly one of the most honest, caring, and generous people I have known. Steve is always the guy who jumps in to be the first sponsor, donate the first prize, or be willing to host anything he asked to help with.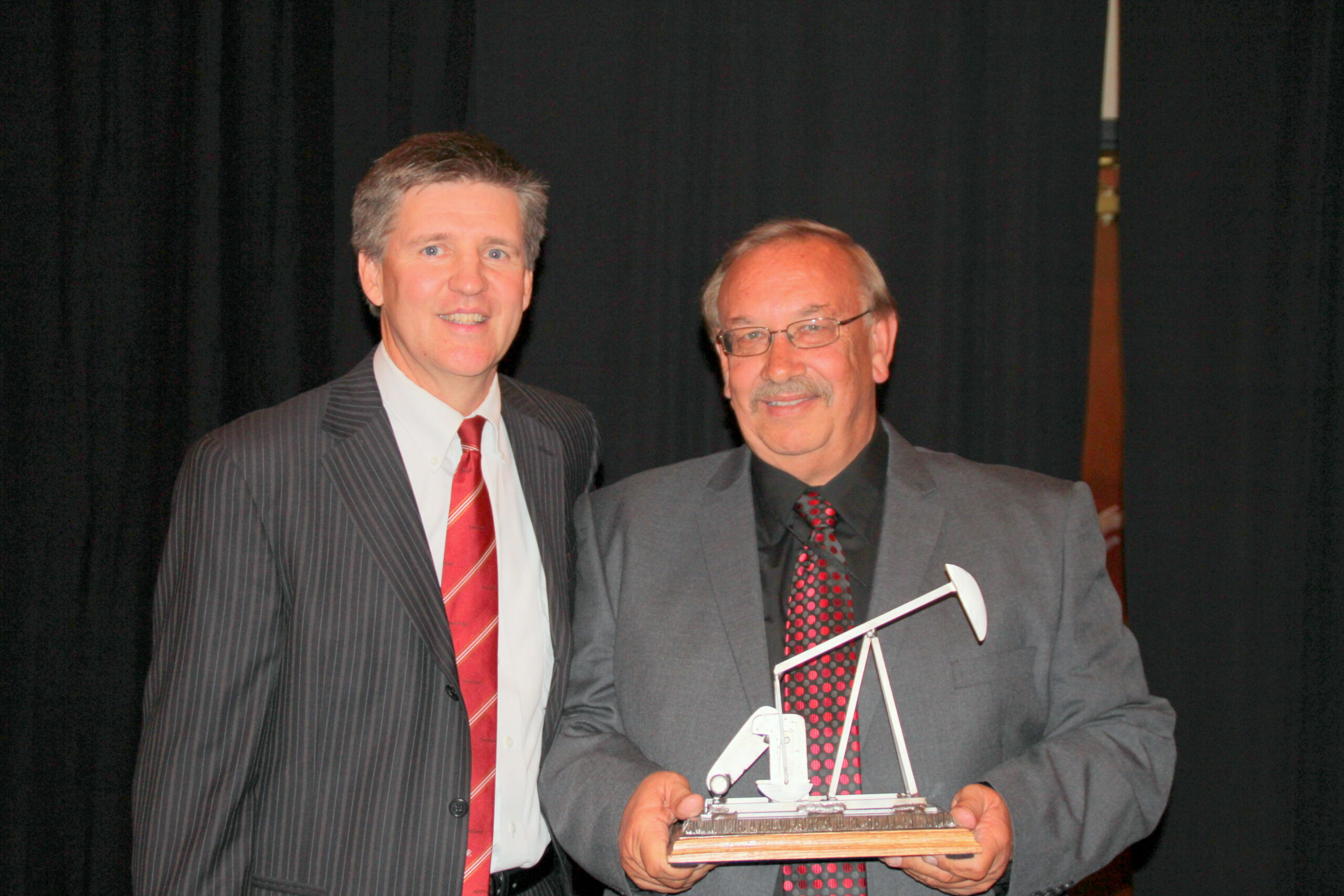 Duane was one of the guys I could count on to help do whatever was needed when the Petroleum Council was a staff of two and we needed all the help we could find to get the Oil Can and other events off the ground.
The North Dakota Petroleum Council recognized Duane Jesch for his many years of service to the oil and gas industry during its 2015 Annual Meeting.
Duane is a 40-year veteran of North Dakota's oil industry. He started his oilfield career in 1975 working as a truck driver for Mantador Services in Belfield.  He later worked for Power Fuels when they were owned by the Behm family. He went into sales and in those days salesmen for trucking companies were known as "truck pushers." During the bust of the 1980s, he moved to Nevada and worked for an open-pit mining company. When Lawrence Lippert the owner of GL Trucking recruited him back to North Dakota, his wife and five children were thrilled to move back home and go to work in the oil industry.  
In 1996, Duane went to work for a small trucking company called Missouri Basin in Belfield owned by the Arthaud family, where he worked for more than 20 years.  
Duane was extremely active in the Dickinson API Chapter and was instrumental in the Petroleum Council's outreach activities, whether it was lining up a tour or getting a cooker to provide lunch for Teacher Seminar or other events. 
Duane and his wife live in Dickinson, ND.
The North Dakota Petroleum Council presented the Distinguished Industry Leader Award to WellPro salesman Cliff Binks for his more than 30 years of service to the community and industry.
Binks has been instrumental in helping with the NDPC Teacher Education Seminars and Tours for 15 years and also helped with the Oil Can! Empower Kids' Futures program at the Williston Basin Petroleum Conference. Education efforts like these are important in educating teachers and students about oil and gas and the career opportunities available in the growing energy industries.
Binks, originally from Casper, Wyo., has worked in the oil fields for more than 45 years in both Wyoming and in North Dakota. He moved to the state in 1986 when North Dakota oil pioneer Tude Gorder recognized his talent and kept him in Williston. Binks also worked for GO Wireline, Gearhart-Owens and Halliburton, before joining Well Pro in 2008 as a salesman.
In addition to his years as a valued employee in the industry, Binks has given his time to industry organizations. He served on the Williston American Petroleum Institute (API) chapter board for many years, including five years as chairman. He also served as a board member of the North Dakota Petroleum Council.
Binks and his wife Susann have two grown children, Laura and Matt.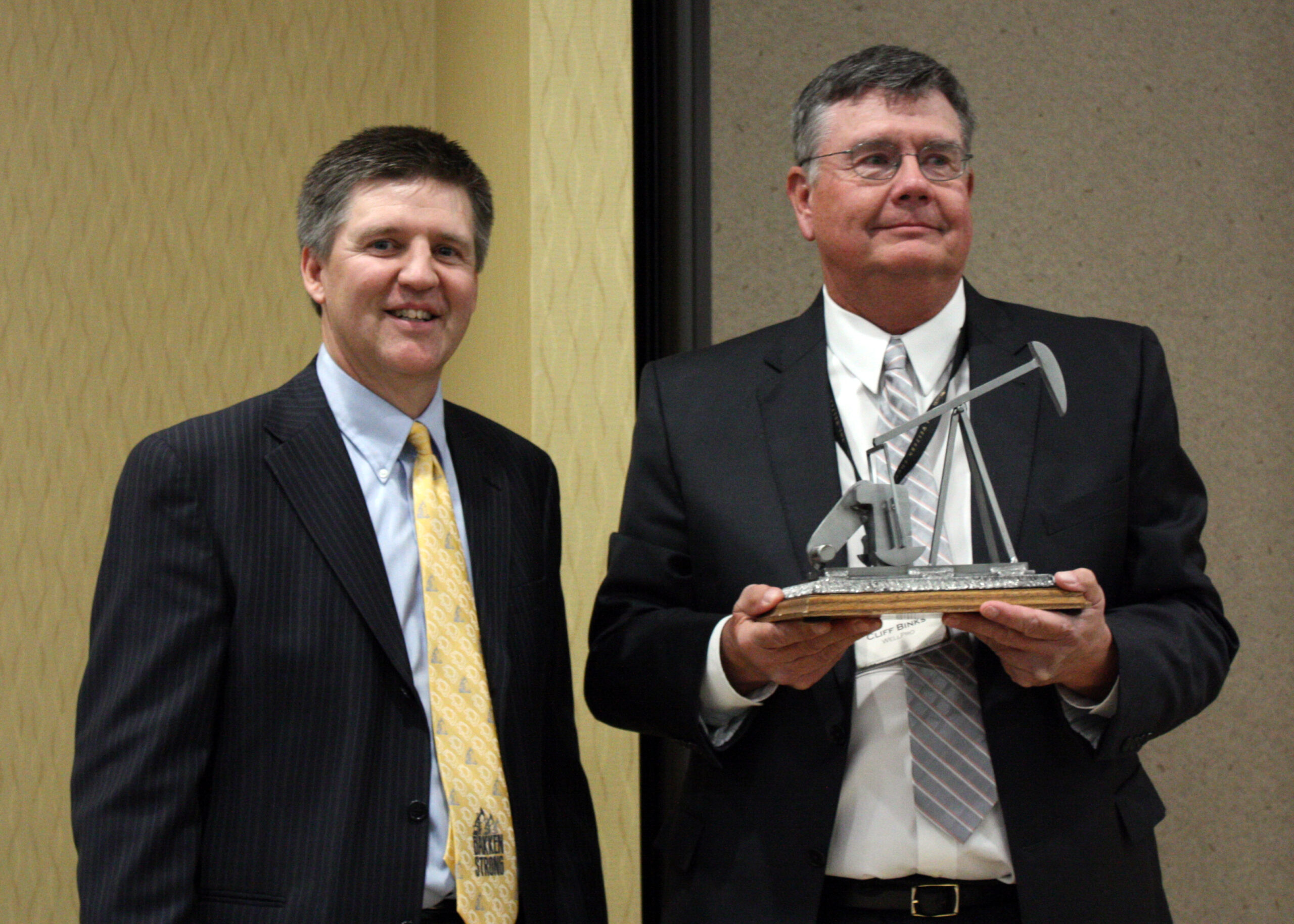 Cliff was always one the first people to volunteer to help at events and support our educational and outreach efforts. The success of our Oil Can! events is thanks to people like Cliff who dedicate their time and energy to helping the industry build relationships with our communities.
Kenny Sample was the 2013 honoree for the Distinguished Industry Leader Award. Kenny grew up in Big Spring, Nebraska, and following graduation he began his career in the oilfield with Garvey Drilling in western Nebraska. He was hired by BJ, and then with his brother, he started Sample Brothers Inc., which sold trucks and wholesale fuel and had two truck stops.
When Kenny went back to work for BJ Hughes in 1980 in Dickinson, ND, he was the first employee for the company in North Dakota. In 2002, he became a regional salesman for Weatherford before joining Wyoming Casing in 2004.  Kenny retired in the fall of 2013.
In addition to assisting the North Dakota Petroleum Council, Kenny was an active member of the Dickinson API Chapter, former president of the Chappell Jaycees, and was a long-time member of the volunteer fire department and the Dickinson Elks.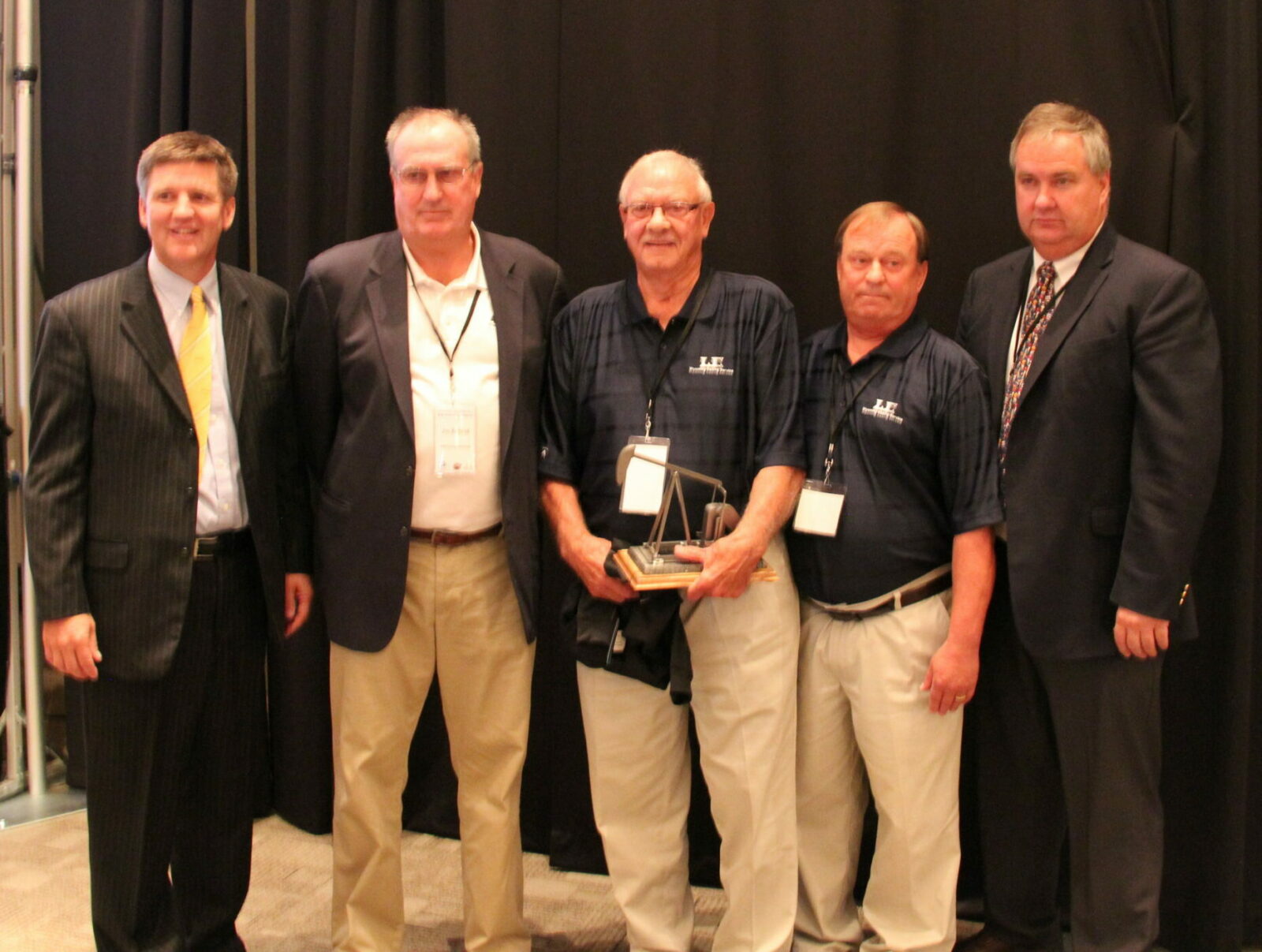 Kenny was a tremendous advocate and mentor for many people in the oil industry. He was always the first to volunteer and brings a big smile to the task. For more than 15 years, he was instrumental in the Petroleum Council's teacher tours, CookFests, and golf events.
Blaine's collegues will vouch – and I can also tell you from experience – that Blaine is committed to his work and people, and he considers his coworkers and employees to be members of his family.
Blaine is a native of Watford City, North Dakota, and worked in the industry for more than 30 years, including 20 years as a lease operator for Enron, and 12 years as a Productions Specialist for Burlington Resources. In 2002, he joined Whiting Petroleum, first as operations supervisor and then as district Superintendent.
Blaine is an avid sportsman and outdoorsman. These interests and his commitment to both the industry and the outdoors have made him a huge player in helping build relationships with outdoors groups and help them better understand the work industry has done and is doing to lessen the impact on our land and wildlife.
Blaine worked tirelessly on behalf of his company, the industry, and the state of North Dakota, and for that, the North Dakota Petroleum Council is incredibly grateful.
Larry Dokken has more than 56 years of experience working in the oil and gas industry, beginning in 1964 when he began working as a roughneck, rig operator and tool pusher on work over and drilling rigs in the Williston Basin. Over the years, Larry has held a number of positions in the industry, earning him a well-deserved reputation as a hard-working, knowledgeable, caring professional and a mentor to many.
In addition to his long career, Larry has also volunteered his time and expertise for several organizations, including as a Past President of the Williston API Chapter; a director and member of the North Dakota Petroleum Council Board of Directors and Executive Board; and a member of the BLM Resource Advisory Council representing the Energy & Minerals Division.
For more than a decade, he has been an integral part of the North Dakota Petroleum Council and North Dakota Petroleum Foundation's outreach and education efforts. Larry has always been happy to help line up and guide legislative and teacher tours, assist with the Bakken Rocks CookFest, and help with other educational sessions. He continues to serve on the Foundation's Bakken Classic Fishing Tournament Committee, which helps raise funds for conservation efforts.
In 2021, Larry was inducted into the North Dakota Petroleum Council Hall of Fame for his many years of service and leadership.
Larry is originally from Greenbush, Minnesota, but he and his wife, Wanda, have been long-time residents of Williston. He has five children: Lynne, Carson, Nicci, Tarah and Tyler; eight grandchildren and three great-grandchildren.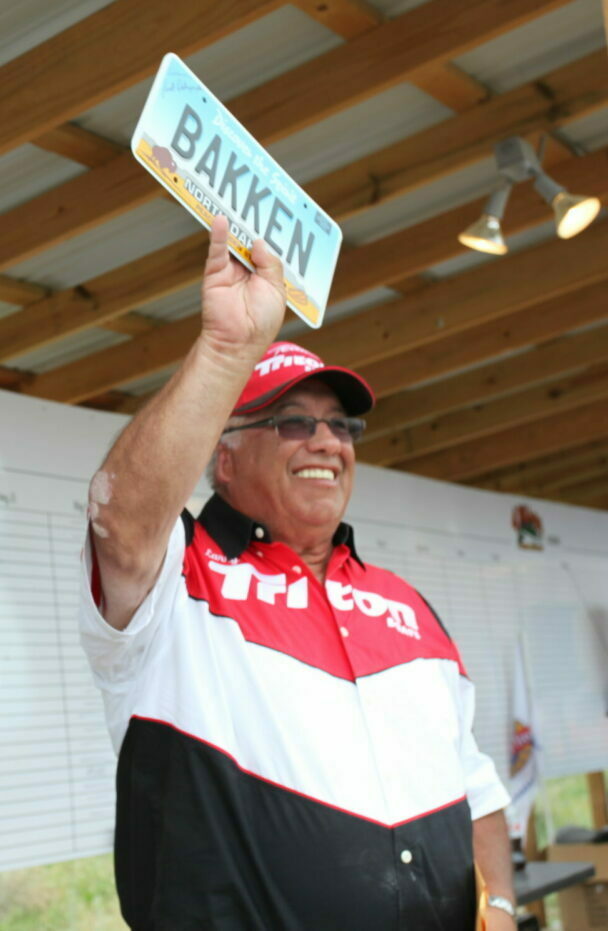 Larry has been an absolute champion for our industry. Over the years, he has shared his experience and knowledge with his colleagues, students, teachers, and the public to create a better understanding of the importance of our industry. We cannot thank him enough for the work and impact he has had within the Council and Foundation.
Kent Ellis was the first honoree of the Distinguished Industry Leader award, and it's a designation that is and continues to be well-deserved.
Kent has been involved in the North Dakota Petroleum Council's education and outreach efforts since 2002. He has helped organize and host the Teacher Education Seminar and was the primary coordinator of the ND Energy Career Awareness Partnership, which sought to provide students, educators, and parents information about career opportunities in the oil and gas industry.
Kent continues to be vital to the industry's education efforts. Through his leadership, the ND Energy Career Awareness Partnership has grown and expanded to become the Tools, Trades Torque, Tech (T4) Initiative. This initiative introduces students to workforce skills, needs, training, and networking opportunities with industry leaders and technicians and academics from North Dakota colleges and universities. These hands-on summits allow students to gain broader exposure to the working world they will one day enter. It helps them "connect the dots" between school and career in ways that keep them motivated to learn the skills they will need for the future.
Kent took the scenic tour through college and graduated from the University of Northern Colorado. He began his energy career in 1980 as a contract petroleum landman in the Williston Basin; taught with the Bismarck Public Schools, served as the regional School-to-Work Coordinator and is currently the T4 Coordinator. He has significant professional career experience in the construction, energy and education industries. He is the owner of LS Hydrocarbyl, and a partner in White Butte Resources, an oil and gas development company
Kent has been an absolute champion for the Council, the industry, and the entire energy sector's education and workforce development efforts. There is no one who has done more to help shape the next generation of energy leaders, and we are eternally grateful for everything Kent has and continues to do for our organizations.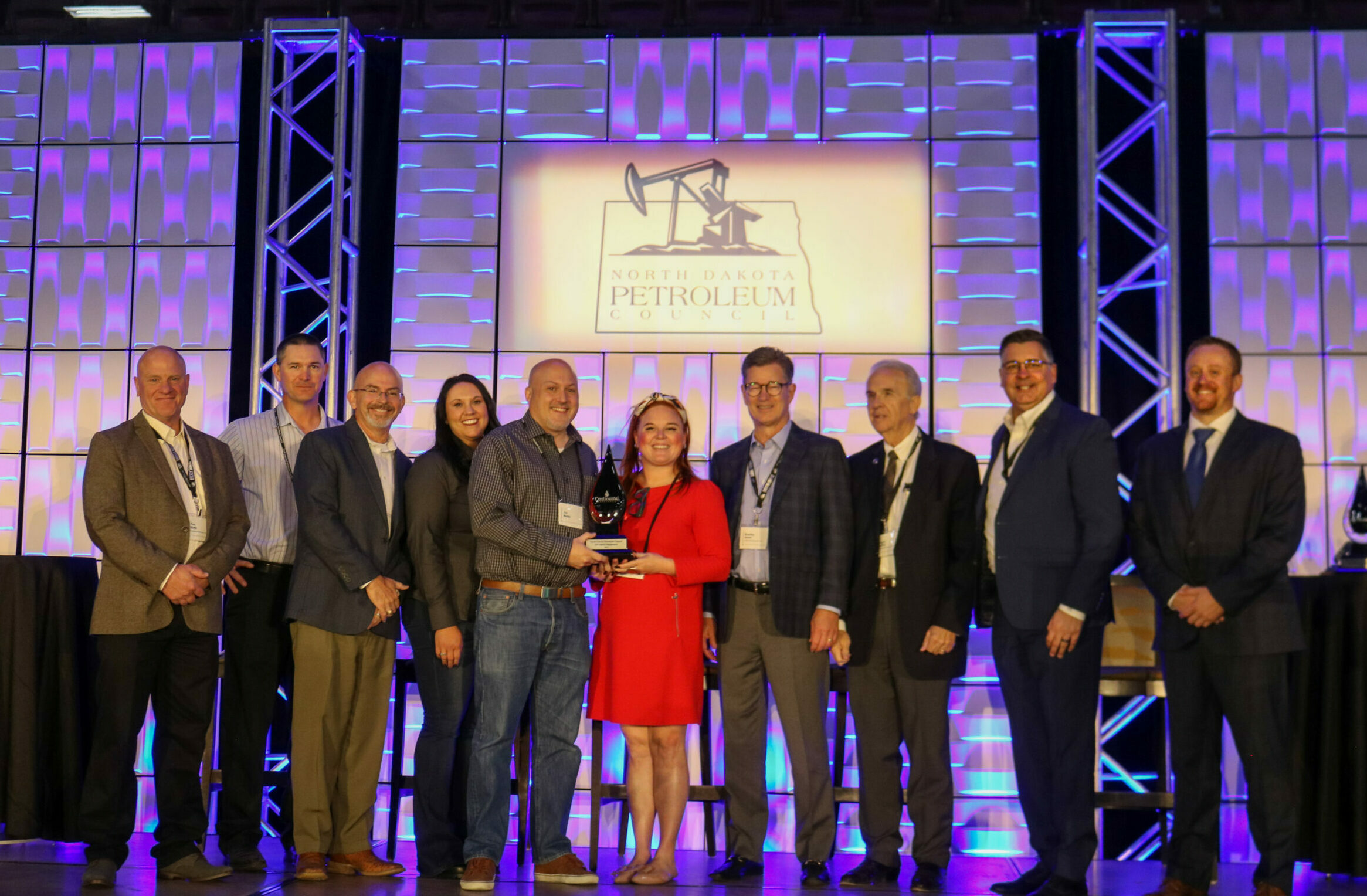 INDUSTRY ACHIEVEMENT AWARDS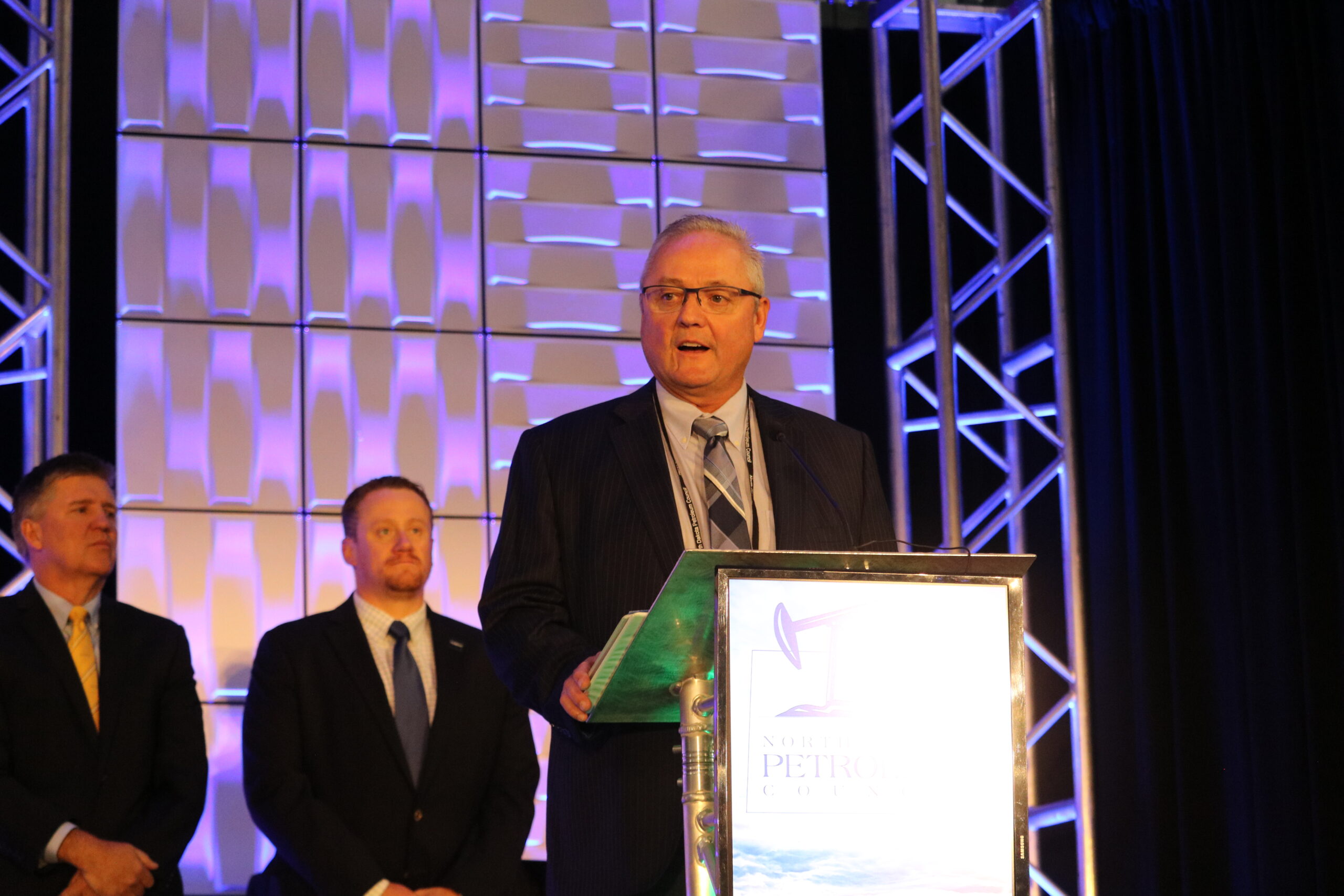 OUTSTANDING PUBLIC SERVANT