A YEAR IN REVIEW
During the 2022 NDPC Annual Meeting, NDPC Chairman Lawrence Bender gave his Year-In-Review to highlight the work of the North Dakota Petroleum Council over the past year.
The industry has regained strength following the many challenges of the past couple of years. NDPC membership has remained steady, great programs have continued that directly benefit NDPC members, as well as Foundation work. As North Dakota continues to recover from the market impacts of the last two years, daily production has steadily climbed back up to 1,069,517 barrels per day of oil production in July. NDPC Membership has held steady these last few years, it is currently at 567 member companies! NDPC membership continues to include 29 of the top 30 oil producers in North Dakota and account for 98 percent of all oil production in the state.
One Basin-One Way!, a standardized contractor orientation program, continues to grow as NDPC enters the fourth year of providing training. There are 2,373 companies in the program, and 15,905 current active OBOW certificates. Since training began in July 2019, more than 40,214 people have completed the 4-hour in-person training, and 8,601 have completed the computer-based refresher course. NDPC continues to adapt and implement changes to best serve OBOW customers and is very proud of this program.
In April of this year, NDPC started a Health Insurance coverage offering with AssuredPartners. NDPC is excited about this partnership and the value it brings to the members and anticipate continued growth in years to come.
NDPC continues to advocate on behalf of the industry through its 501c3 nonprofit, the North Dakota Petroleum Foundation. The Foundation's mission is to provide and support education and outreach opportunities related to the petroleum industry, develop and advance quality of life initiatives, and promote and enhance the conservation heritage of North Dakota. This year, the Foundation continued its work to achieve this mission through three primary objectives: Education and Awareness, Conservation, and Outreach.
Education and awareness initiatives were the first to be embraced by the Council and Foundation about 30 years ago. The Teacher Education Seminar was started to better inform teachers about the oil and gas industry and its operations, as well as the job and career opportunities available to their students. This program continues today. This year, NDPC hosted more than 40 teachers in Bismarck and took them on an oilfield tour.
Workforce development is a big part of education efforts. In addition to educating the educators on the careers available, it also brings the message to the students. These efforts have grown into the Tools, Trades, Torque, Tech Program. Through this program, students can learn about the jobs and careers available to them in the energy industry and skilled trades. Private companies, colleges, and universities host hands-on activities and demonstrations to get students involved and engaged in the kinds of skills and training needed for a rewarding career in our industry.
The Foundation also supports students who have already chosen a career path in STEM and energy. This year, $18,000 was awarded in scholarship to students pursuing an energy-related degree. Congratulations to this year's Al Golden Scholars!
The Foundation has worked to share messages through advertising and social media about the many positives that the industry brings to the people and communities of North Dakota. The Foundation also hosted a town hall in conjunction with the Bakken Rocks CookFests that were held in Trenton and White Shield this year. This event brings people from all over to learn about the industry and meet the many people employed by it.
Conservation is the newest initiative undertaken by the Foundation, but it's also the fastest growing. This year, NDPF planted more than 69,000 trees for habitat and wildlife in North Dakota, and this program only continues to grow in popularity.
The NDPF Fishing Derby, along with the new Birds & Birdies shooting and golf event that was introduced this spring, are not just great fundraisers for the Foundation. They are a great time and networking opportunity for members as well.
We encourage you to learn more about the Foundation and how you can get involved at NDPetroleumFoundation.com.
2022 has flown by and been a successful year. NDPC hopes to build upon these successes in 2023.
In 2023, the NDPC will host several events for members to connect as well as continue our efforts to build strong relationships with stakeholders. These events include Foundation programs, such as the CookFests, as well as PAC events, which continue to be successful and important in ensuring we can support the candidates and office holders who are supportive of common-sense legislation and regulations.
In September 2023, NDPC plans to hold the Annual Meeting in Watford City, ND!
To view the power point presentation, click here.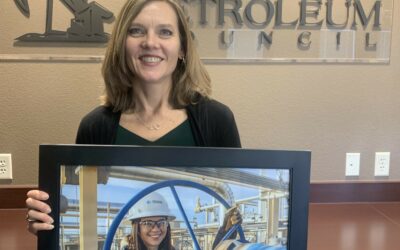 Each year, the North Dakota Petroleum Council (NDPC) requests its members to submit photographs to be considered as the photo of the year. When Communications Director, Reva Kautz, saw the 2023 NDPC Membership Photo, it became her goal to meet this young professional featured in the image, whose captivating smile catches everyone's eye.
read more