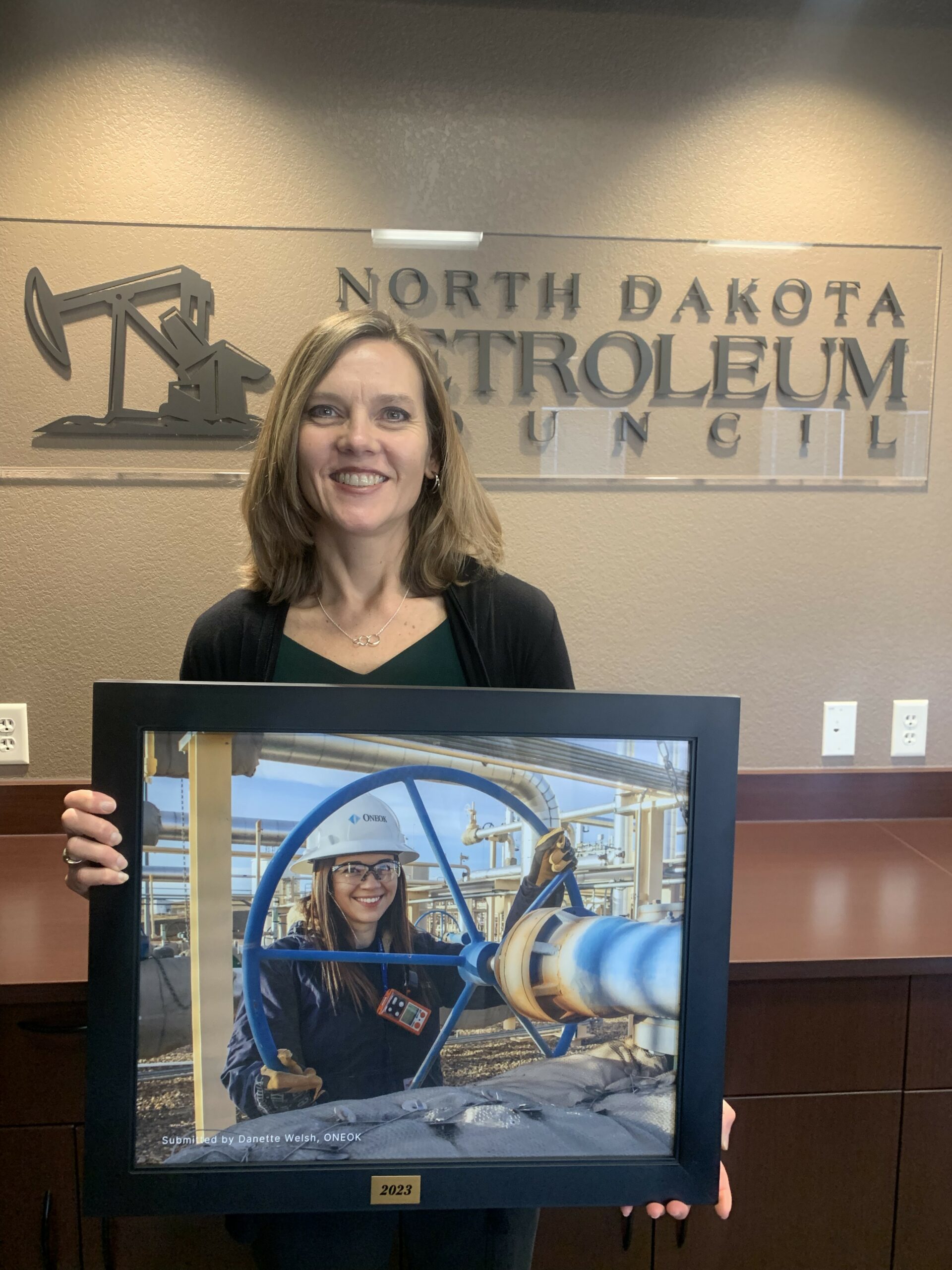 Each year, the North Dakota Petroleum Council (NDPC) requests its members to submit photographs to be considered as the photo of the year.  When Communications Director, Reva Kautz, saw the 2023 NDPC Membership Photo, it became her goal to meet this young professional featured in the image, whose captivating smile catches everyone's eye.
The winning photograph was submitted by member company ONEOK.  Reva traveled to Watford City in early February and caught up with ONEOK's Supervisor-Plant Operations, Shelby Bruins, to learn about her work journey and her role in the company.
Shelby attended the South Dakota School of Mines and Technology in Rapid City where she obtained her bachelor's degree in chemical engineering.  After working on a senior design project in college, "I was most familiar with the natural gas processing side of "oil and gas". My husband has a degree in geology and worked as a wellsite geologist before taking over the family farm. I learned about how the drilling process works from him," shared Shelby.
ONEOK wasn't the first company Shelby worked for in Watford City, so when asked what encouraged her to apply at ONEOK, she shared, "I heard that it was a good company to work for."  Bruins appreciates that her employer is very community-minded.  "They invest in and give back to the communities where their employees live and work, and I wanted to be a part of that."
When asked about Bruin's job responsibilities, she humbly shared she had recently been promoted at the end of January 2023.  She went from being a supervisor to gaining the role and title of Manager-Processing Operations at the Lonesome Creek Plant near Alexander, ND.  "My top priority every day is to make sure everyone makes it home to their families in the same condition that they arrived to work in. Safety and health of our employees is just one of ONEOK's key drivers," explained Bruins.  "I also oversee my team balancing being environmentally responsible, operating our natural gas processing plant in accordance with all compliance regulations, and ensuring that our end products are meeting the quality standards of our customers, all while operating in a cost-effective manner for our stakeholders."
Shelby didn't realize "the bond that you form with your team. You go through a lot with them over time."  She discussed how they work on large projects, everyday troubleshooting, mentoring, and celebrating career milestones.  Shelby mused, "As a leader, you don't just have "employees" – you build a close-knit team." She has now been working in the natural gas industry for six and a half years.  Bruins feels the most rewarding part of her job is seeing her team members succeed and progress in their careers.  Whether a team member is earning a certificate, finishing a level of training, or being promoted to other leadership roles within the company, Shelby reveals, "I am proud to say that I was part of someone's career."
The energy industry is always looking for more people to join the workforce to fill open positions.  Bruins was asked if she recommends others to investigate her field of work.  She responded,  "The oil and gas industry is a great opportunity for a career. There are multiple trades and areas of expertise that are needed in this industry. We need mechanics, instrumentation and electrical technicians, process plant technology degrees, construction coordinators, welders, crane operators, safety specialists, environmental technicians, engineers, geologists, IT, administrative support, accounting, and financial analysts, and the list goes on. It takes a lot of different crafts to keep the oil and gas industry going."  She also suggests that people can put roots down and stay here for their career since these large processing plants aren't moving to another location."  Shelby feels that a person working in this industry can have a stable job for many years to come.
ONEOK was founded in 1906 as an intrastate natural gas pipeline business in Oklahoma.  Today, ONEOK is one of the nation's premier energy companies involved in the natural gas and natural gas liquids businesses.  ONEOK has been a member of the North Dakota Petroleum Council since 2005.
Shelby described their company's role in the oil and natural gas industry.  ONEOK "processes the natural gas. Raw natural gas is gathered at the wellhead, compressed at our compressor stations, and then transported to our processing plants. At the plants, we separate the gas into residue gas and natural gas liquids. The residue gas is recompressed and delivered to natural gas pipelines, storage facilities, and end users. The natural gas liquids are delivered to fractionation facilities for further processing. In ONEOK's Williston Basin, we currently have approximately 1.9 billion standard cubic feet per day of natural gas processing capacity."
"We are a leading midstream service provider and own one of the nation's premier natural gas liquids systems, connecting NGL supply in the Rocky Mountain, Mid-Continent, and Permian regions with key market centers and an extensive network of natural gas gathering, processing, storage, and transportation assets" states Megan Washbourne, ONEOK's Director of Corporate Communications. ONEOK's mission statement shares why they exist:  To deliver energy products and services vital to an advancing world.
Heather Steffes, Community Relations Coordinator for ONEOK's NGL Bakken Pipelines, explains "ONEOK is a committed and active member in our communities with a dedicated Community Investments department to foster partnerships between our company, our employees, and the community. Investing in communities where we have operations and where our employees live and work not only is the right thing to do – it's also smart business. By contributing financially and through volunteerism, we help build stronger communities and create a better environment for our employees, customers, and the general public."
ONEOK provides one-time grants and multi-year pledges to support programs, projects and capital campaigns of charitable organizations. ONEOK also has grant programs that specifically support public schools and emergency response organizations.   In 2022, ONEOK's total contribution to North Dakota was over $825,000.
"We encourage our employees to get involved and to build relationships with key community stakeholders", reports Steffes.  ONEOK offers a matching grant program that provides a dollar-for-dollar match of employee contributions to charitable organizations of their choice.
ONEOK encourages and supports employee volunteer efforts in the community.   Heather explains, "Volunteering is an important part of ONEOK's culture and a valuable resource for charitable organizations. We are proud that our employees generously share their time and talents to benefit the community."  In 2022 alone, ONEOK's employees recorded over 2,000 volunteer hours.  When 474 of those employees work in North Dakota and Montana, that is a lot of good being done right in team members' back yard.
Reva appreciated meeting the young woman showcased in the 2023 NDPC Membership Photograph, and after a short in-person visit, Kautz shared "Now I know that the smile in the photo was genuine.  Shelby is an excellent example of a leader in the oil and natural gas industry who deserves to be in the spotlight."
"Shelby Bruins is an excellent example of a leader in the oil and natural gas industry who deserves to be in the spotlight."
-Reva Kautz, Communications Director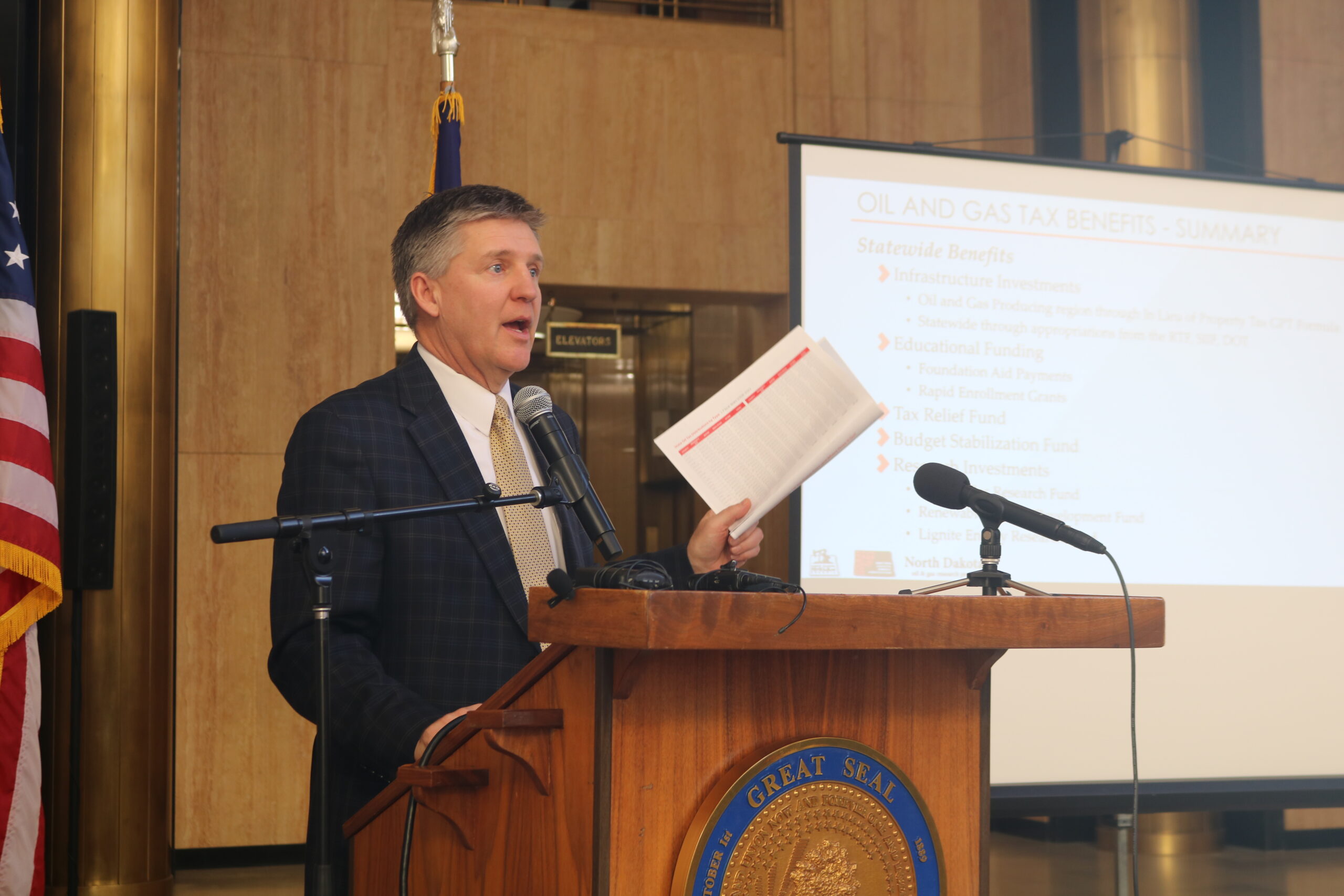 The 2022 update of North Dakota's Oil and Gas Tax Study is complete and there is good news – the revenue from the energy industry's taxes benefits every person in the state. North Dakota Petroleum Foundation and Western Dakota Energy Association shared the results of...
read more