Press Releases
Latest news and announcements from the NDPC.
Grote & Rosendahl Receive NDPC Leadership Award
FOR IMMEDIATE RELEASE
October 1, 2021
Bismarck, ND – The North Dakota Petroleum Council (NDPC)  honored Brian Grote (Crosby) and Brian Rosendahl (Westhope) with their Distinguished Industry Leader Award during their Annual Meeting in Watford City last week.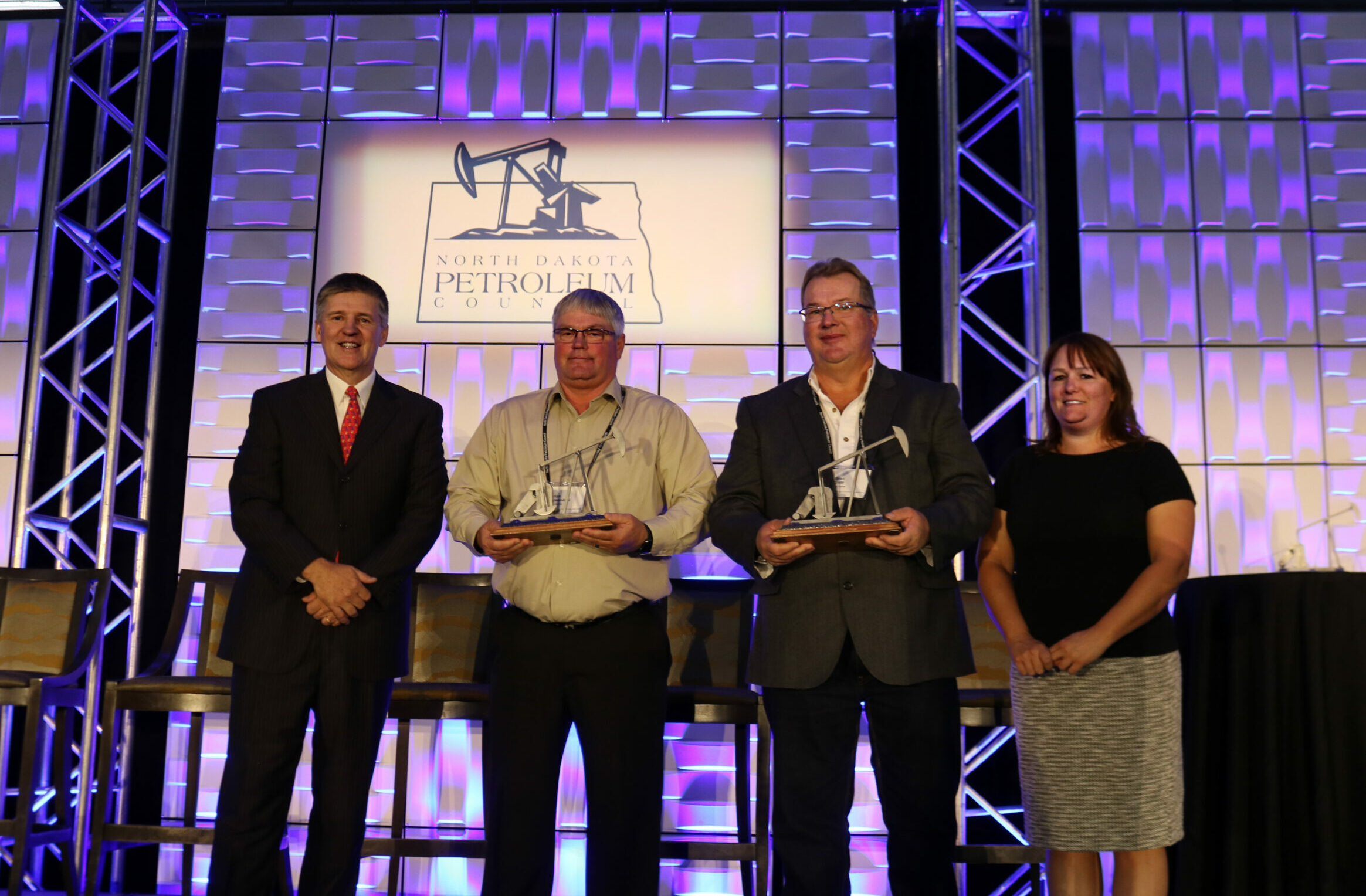 Pictured left to right: NDPC President Ron Ness, Brian Grote, Brian Rosendahl, and NDPF Executive Director Tessa Sandstrom
This award is designed to acknowledge members of the oil and gas industry who go beyond the normal call of duty to help the industry educate the public and work towards improving public perception by supporting North Dakota Petroleum Foundation programs and other association activities.
"Brian and Brian are the best cooks in the Bakken, they not only make a great brisket, but they do it with a smile and they are happy and eager to help at any of our outreach and education events," said North Dakota Petroleum Council President Ron Ness. "Community outreach is a pillar of the Petroleum Council and now the Petroleum Foundation; Cookfests, teacher seminars, and golf and fishing events which bring our industry and public together to foster better relationships and resolve challenges.  Brian and Brian, with the support of Balon Valves, always volunteer to cook for us when asked, it's simply 'yes, how can we help and where should be?' 
"We cannot thank Brian and Brian enough for their support and willingness to volunteer and help over the past decade.  They are great cooks, but they are even better people and distinguished leaders who grew-up in our state and love to support the oil industry and be part of the effort to improve community relationships and make our state a great place to live and work."
Brian Grote is a native of Crosby, North Dakota. After graduating from Divide County High School, he went to work in the oil industry for drilling contractors including Bomac, Bird Drilling and Kenting.  He received an Associate of Applied Science degree from ND State College of Science and went to work for National Oilwell in 1990.  Brian joined Balon Valves in 2003 where he currently works as the Regional Manager.
Brian Rosendahl is a native of Westhope, ND graduating from Westhope High School in 1979.  After graduation, he started his career in the North Dakota oil fields working for Cardinal Drilling. After a slow-down in the early 80's he started with Bridgeman Creameries in Minot where he worked for the next twenty years. In 2008, Brian was drawn back to the oil industry as a salesman for National Oilwell Varco, and then in 2013, began his career with Balon Valves where he is currently a sales representative for the MonDak region. 
Both Brian Grote and Brian Rosendahl are active volunteers in their communities, and with the generous support of Balon, they enjoy grilling for the various oilfield golf tournaments, cook outs, and community events in western North Dakota and eastern Montana.
###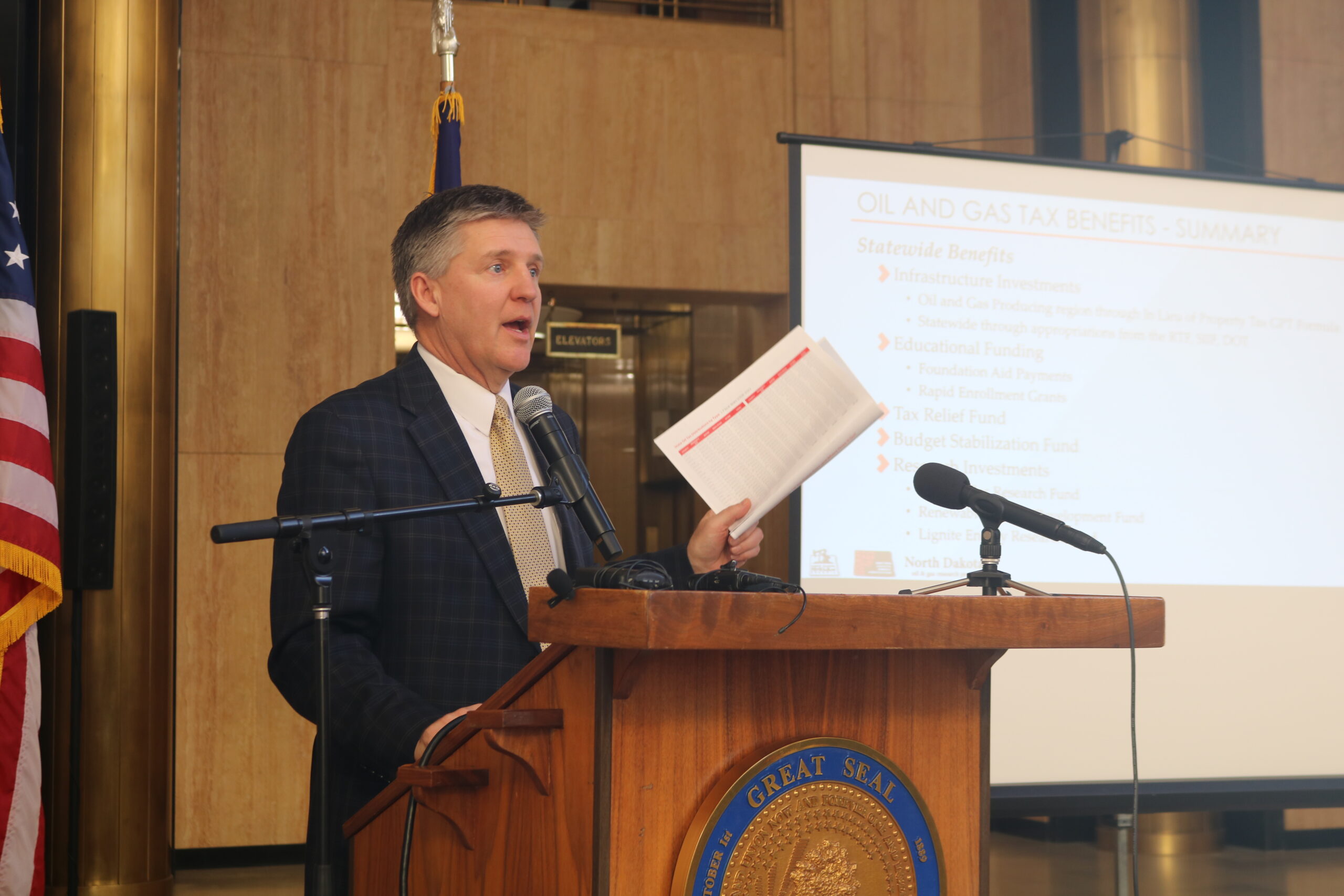 The 2022 update of North Dakota's Oil and Gas Tax Study is complete and there is good news – the revenue from the energy industry's taxes benefits every person in the state. North Dakota Petroleum Foundation and Western Dakota Energy Association shared the results of...
read more