Press Releases
Latest news and announcements from the NDPC.
North Dakota Petroleum Council Presents Annual Industry Achievement Awards
FOR IMMEDIATE RELEASE
October 11, 2021
Bismarck, ND – The North Dakota Petroleum Council (NDPC) presented the 2021 Industry Achievement Awards during their Annual Meeting on September 22, 2021. These awards recognize members of the industry who demonstrate excellence in safety, community engagement, and environmental stewardship.
The oil and gas industry takes pride in working to find new ways to become better, cleaner, more efficient, and overall, a good neighbor. The NDPC believes it is important to recognize its members for their great achievements.
EXCELLENCE IN SAFETY AWARD
ONEOK received the Excellence in Safety Award for its behavioral-based safety program.  This program has helped transform the organization's safety and health culture by providing employees a platform to present at-risk conditions and issues to front-line supervision and management for review and subsequent action.  At ONEOK, safety is an uncompromising value that is key to organizational success.
ONEOK is a leading midstream service provider and owner of one of the nation's premier natural gas liquids (NGL) systems, connecting NGL supply in the Rocky Mountain, Mid-Continent and Permian regions with key market centers and an extensive network of natural gas gathering, processing, storage, and transportation assets.  ONEOK is the largest midstream provider in the Williston Basin, which spans portions of Montana and North Dakota, and includes the oil-producing, NGL-rich Bakken Shale and Three Forks formations.
EXCELLENCE IN COMMUNITY ENGAGEMENT AWARD
Continental Resources was given the Excellence in Community Engagement Award for its Funding the Future grant program. Since 2013, Continental has awarded grants to fund science, technology, engineering, mathematics and reading initiatives in K-12 schools in North Dakota and other states where the company operates. Last year, $15,000 in Funding the Future grants were awarded to six North Dakota schools, including Williston High School, Dickinson Public Schools, McKenzie County Public Schools, Alexander Public Schools, Divide County High School and Stanley Community Schools. The 2021 Funding the Future grant application deadline is October 29th.  Visit clr.com/fundingthefuture to apply.
Continental Resources is a Top 10 independent oil producer in the U.S. Lower 48 and a leader in America's energy renaissance. Based in Oklahoma City, Continental is the largest leaseholder and one of the largest producers in the nation's premier oil field, the Bakken of North Dakota and Montana.
EXCELLENCE IN ENVIRONMENTAL STEWARDSHIP AWARD
Crusoe Energy Systems was awarded the Excellence in Environmental Stewardship award for its Digital Flare Mitigation® technology. Crusoe's objective with flare mitigation is to help operators solve the regulatory and environmental challenges of stranded gas. Crusoe converts "stranded" natural gas into electricity for energy-intensive computing at the well site. Digital Flare Mitigation® ("DFM") solves regulatory and environmental challenges for oil and gas companies by achieving beneficial use, reducing flaring, and lowering emissions.
Crusoe is on a mission to eliminate routine flaring of natural gas and reduce the cost of cloud computing. Crusoe repurposes otherwise wasted energy to fuel the growing demand for computational power in the expanding digital economy.
The North Dakota Petroleum Council congratulates all award winners and appreciates the example they set for the industry in making their workplaces and communities great places to live and work!
-###-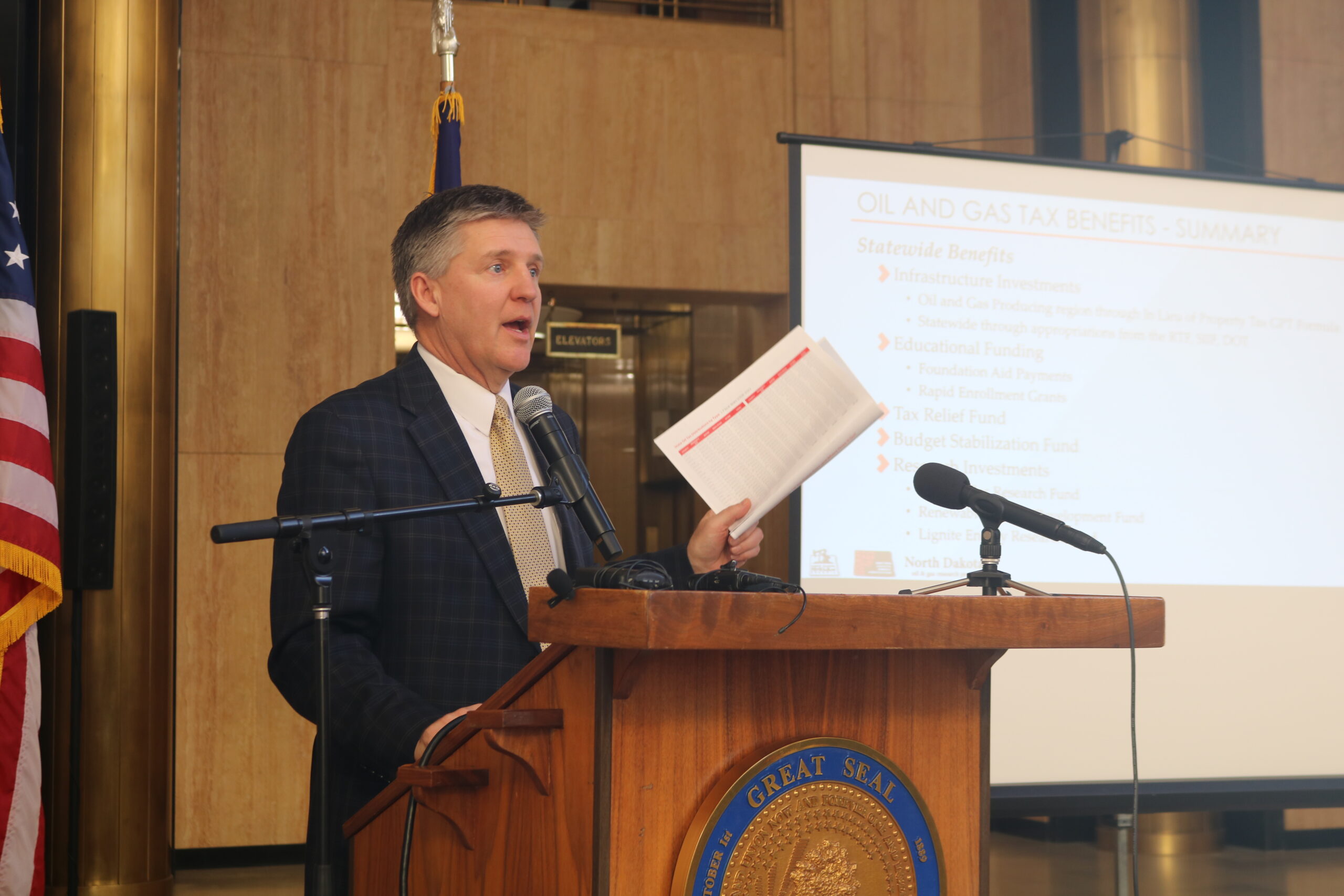 The 2022 update of North Dakota's Oil and Gas Tax Study is complete and there is good news – the revenue from the energy industry's taxes benefits every person in the state. North Dakota Petroleum Foundation and Western Dakota Energy Association shared the results of...
read more