INDUCTED 2003
A.G. GOLDEN
A.G. "Al" Golden was the first industry leader to be inducted into the NDPC Hall of Fame. Al was a pioneer in the oil and gas industry from its start in North Dakota. He was instrumental in the development and growth of the industry and the North Dakota Petroleum Council.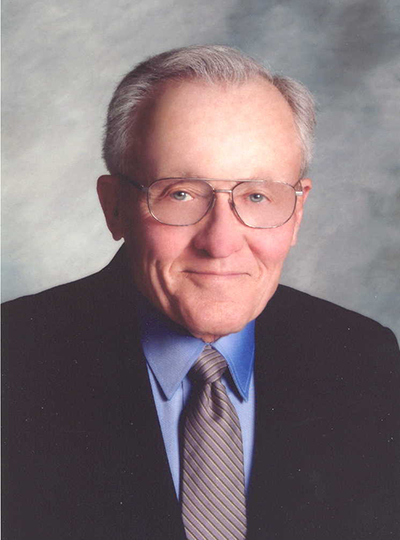 A.G. (Al) Golden, Golden Oil, Bismarck, was inducted into the Hall of Fame at the North Dakota Petroleum Council's 22nd Annual Meeting in Bismarck on September 11, 2003.
Al was born on October 10, 1927, in East St. Louis, Illinois, to Thomas and Flora Golden. He served in the Coast Guard during WWII, and graduated from Ohio State after his service. After graduation and with a degree in animal husbandry, he moved to Montana and worked as a veteran's farm training instructor before entering North Dakota's oil industry as a Mobil Oil scout in 1953. In 1960, he started his own company, Golden Oil Company, in Bismarck. 
Golden actively served on numerous boards and commissions throughout his career, including terms as president of the North Dakota Oil and Gas Association, President of the Rocky Mountain Oil and Gas Association, North Dakota Landman's Association, and as Chairman of the Greater North Dakota Association.
He was appointed a member of the Interstate Oil and Gas Compact Commission in 1970 by Governor Guy and served continuous terms under Governors Link, Olson, and Sinner.
For his leadership and service, the NDPC named its scholarship for him. To date, the Al Golden Scholarship Fund has awarded more than $120,000 to students pursuing an energy-related career in North Dakota.
Al passed away in 2012 at the age of 84.
"
Al Golden was the obvious first choice as an inductee into the North Dakota Oil and Gas Hall of Fame. For the past 50 years, Al has been one of the most active -go-to guys' on oil and gas issues in North Dakota."
– JEFF HERMAN, 2007 INDUCTEE
The North Dakota Petroleum Council Hall of Fame was initiated in 2003 to recognize and honor those who have demonstrated dedication to the industry and who have made a significant impact on the development and growth of our industry.