INDUCTED 2008
JACK SWENSON
Jack Swenson became the sixth inductee into the North Dakota Petroleum Council Hall of Fame at the Petroleum Council's 27th Annual Meeting in Bismarck on September 17, 2008. Jack played a significant part in North Dakota's oil and gas industry at both the state and regional levels throughout his career and maintained the motto of Petroleum Council Hall of Famers by working tirelessly in support of maintaining a strong oil and industry in North Dakota and the Rocky Mountains.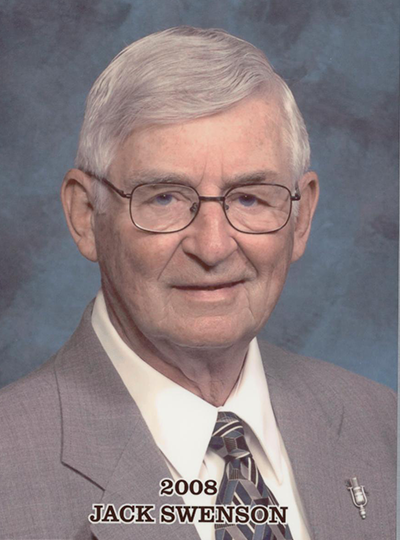 John G. "Jack" Swenson was born in Crookston, Minnesota in 1926. Unlike other Hall of Famers, Jack did not get involved in the oil and gas industry right away. Rather, he was drawn to journalism, where he spent about 25 years working as a newspaper reporter and photographer for the Minneapolis Star Tribune and later as an announcer, reporter, editor, and talk show host radio and television.
In the Fall of 1963, Swenson was named the Executive Director of the North Dakota Petroleum Council. He worked spent nine years with the Petroleum Council when, in 1972, he was promoted to Central Region Director for the American Petroleum Institute in Chicago. In 1975, Swenson became the Executive Vice-President of the Rocky Mountain Oil & Gas Association in Denver, a position he held until his retirement in May of 1987.
During his 24 years in the industry, Swenson has garnered many awards for his contributions. In 1985, he became a member of the Rocky Mountain Petroleum Pioneers and in 1987, the year of his retirement, he was named the Denver Petroleum Club's Man of the Year. Also in 1987, Swenson received the Independent Petroleum Association of America's "Hard Hat Award" for his work on public land access issues.
In his earlier years, Swenson worked at the American Newspaper in Blackduck, Minnesota, and returned to northern Minnesota in 2001 where he covered local stories and wrote a popular weekly column. He and his wife returned to BismarckMandan in 2012 where he remained until he passed away peacefully at the age of 92.
The North Dakota Petroleum Council Hall of Fame was initiated in 2003 to recognize and honor those who have demonstrated dedication to the industry and who have made a significant impact on the development and growth of our industry.